THE CONCEPT
This advanced technique reduces the number of dental implants required to restore an entire arch of teeth, and enables permanent teeth to be fitted to dental implants on the same day of implant placement.
The science behind the smile
With the Same Day Teeth concept, it is possible to achieve a new smile and a bite comparable to natural teeth in just one day. The technique was originally developed for patients who had experienced total tooth loss, offering them an efficient treatment concept using only four dental implants to support a full arch of teeth. Before this treatment became available, traditional, whole arch dental implant procedures used between 6 and 10 dental implants and required a lengthy healing period before the bridge could be fitted to the implants. Placement tended to require extensive bone grafting. The fixed same day teeth solution differs because it enables you to have a complete arch of new teeth in a single day, using just four implants.
Many of the fixed teeth systems used today have their origins in the All-on-4™ technique pioneered by Portuguese Dentist, Dr. Paulo Malo. This enabled patients to have a fixed bridge placed quickly, using the minimum amount of dental implants and avoiding the need for extensive bone grafts. The protocol has become a popular procedure worldwide and has influenced the development of many other systems, all with their own merits.
The position and configuration of the implants in the jawbone, combined with the permanent bridge, aids the distribution of the chewing forces passed on to the jawbone from the teeth. Two of the implants are often tilted up to 45 degrees at the back of the jaw, meaning less jaw bone is required. The other two are placed vertically at the front of the jawbone.
There are many different names given to this technique, including:
Same Day Smile
All-on-4™
Permanent teeth in a day
Fast and Fixed
Patients who chose fixed teeth reported the following advantages:
The full arch of teeth can be cared for and cleaned just like natural teeth. The arch of teeth cannot be removed, so there is no need to remove a denture after meals
The full arch of permanent teeth feels just like your natural teeth
You can taste your food more, as the full arch of upper teeth does not cover the roof of your mouth
Your can chew and bite food how you like and you can choose to eat the foods you previously could not, experiencing a more varied diet for healthier living
It is a long term solution and will last for decades or a person's lifetime if looked after correctly
All-on-4™ is a registered trademark of Nobel Biocare.
Same Day Teeth – immediate loading
'Loading' means the attachment of your chosen bridge of teeth to your dental implants. For many people it is entirely possible to attach a provisional, non-removable acrylic bridge on the same day as implant placement. This is especially important for those patients facing the imminent loss of their remaining teeth. The procedure requires extensive planning, more surgery time and close collaboration by the Same Day Teeth team.
Same Day Teeth – delayed load
Although many of our patients have suffered both the emotional and functional issues of total tooth loss for many years, they may not expect or require the immediate attachment of their teeth. Instead they wear their complete dentures as normal during a 90-day healing and integration phase. After this, treatment continues and we create an arch of replacement fixed teeth.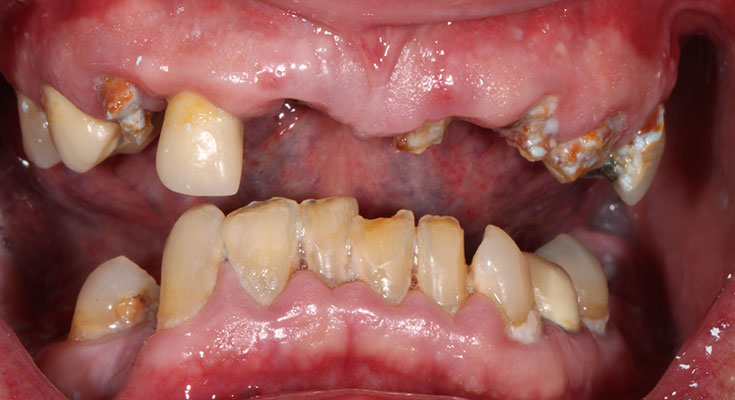 Broken down teeth with decay and advanced gum disease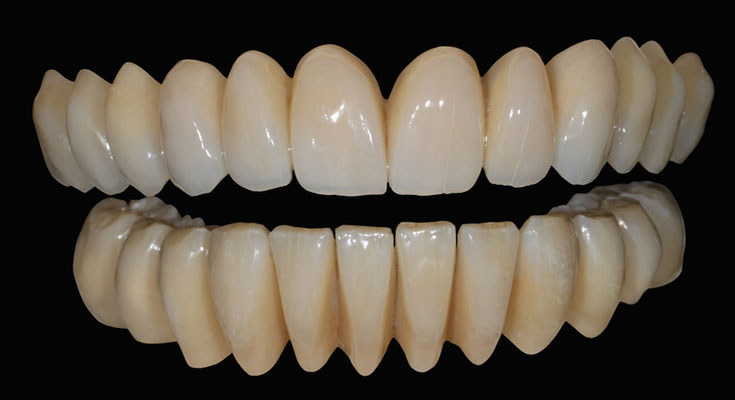 Permanent teeth fixed directly to implants with no need for bulky gum work or a plastic palate that covers the roof of the mouth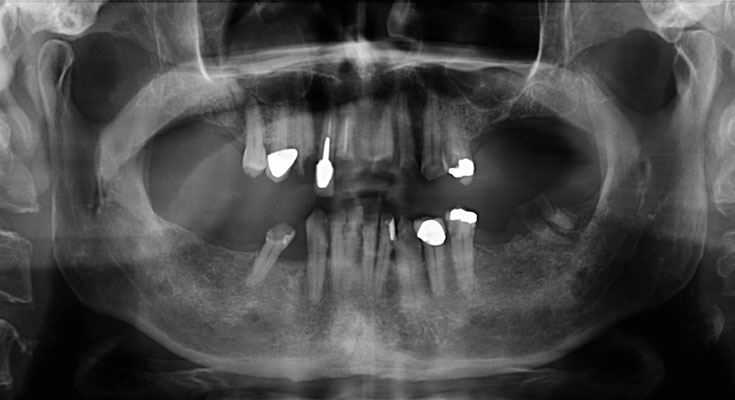 Full mouth x ray taken after removal of teeth with dental implants and fixed teeth in place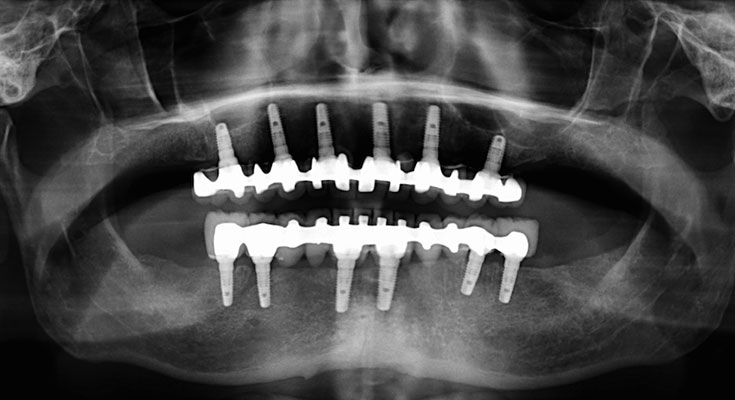 Full mouth x ray taken after removal of teeth with dental implants and fixed teeth in place